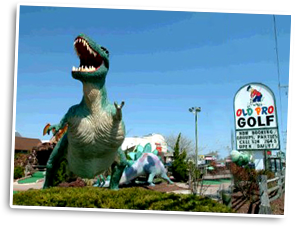 Old Pro Golf is a family-owned and operated business founded in 1965 by Herbert J. and Aileen "Deany" Schoellkopf. Prior to owning Old Pro Golf, they were designing, building and operating miniature golf courses, driving ranges, and other amusement facilities up and down the East Coast. Herb became hooked on the game of golf and saw its potential as a business while helping a fellow coach at Guilford College build a miniature golf course to raise funds to buy school uniforms. Since then he has designed and built well over 150 miniature golf courses during his 50+ year career. John Margolies, author and photographer of the book Miniature Golf, credits Herb with being one of the originators of the "Philadelphia School of Miniature Golf design."
Elaborate themes, mechanized figures and obstacles, creative and challenging hole design and extensive use of water and landscaping are the keys to an Old Pro miniature golf design. Herb has always emphasized Walt Disney's word, "Imagineering." The concept has helped create many great miniature golf courses over the years. The first course in Ocean City was built on the Pier in 1963. In 1965, the 23rd Street course was constructed in what was then considered North Ocean City. They built the course despite the local wisdom, "No one will go all the way up to 23rd street just to play miniature golf!" From 1967 to 1974 new Old Pro courses opened throughout Ocean City. During the same time period, Old Pro Golf also operated 14 other miniature golf locations in New Jersey, Delaware, Maryland, and South Carolina.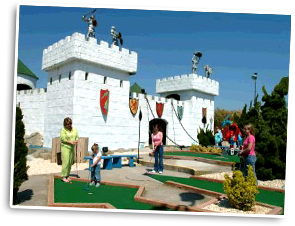 In 1990, Herb purchased the property that is now the 68th street Old Pro location and built the outdoor Dinosaur Course. Three years later Herb finally got to realize his idea of an indoor miniature golf course. The Undersea Adventure and family arcade were built. With this indoor location being such a huge success in the fall of 2009, Herb decided he wanted to remodel his three outdoor courses at 136th street and have another indoor course. By the summer of 2010, 136th street in Ocean City was the home to an outdoor Caribbean Pirate course, an indoor Rainforest Adventure and another great family arcade.
Over the years Old Pro has grown through hard work, "imagineering," and employee dedication and cooperation. As we continue to grow and create, Old Pro Golf is as full of potential as it was the day Herb built his first miniature golf course out of dirt and 1x4 lumber. So when you're in Ocean City, Maryland don't forget to stop by one of four wonderful locations; 23rd street, 28th street, 68th street, or 136th street on Coastal Highway.